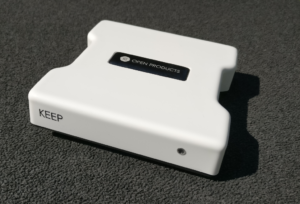 It is time for a sneak preview of "KEEP", the successor to OPI.
We have tried to listen to you guys on what you want and what you missed on OPI. The first couple of boards are now up and running and we are spending as much time as we can to get all the software up and running.
So first of all some pictures, that always says more than a thousand words…
Top one is of the exterior of KEEP, it is a plastic cover with a black aluminum plate underneath, giving the unit a nice solid feel.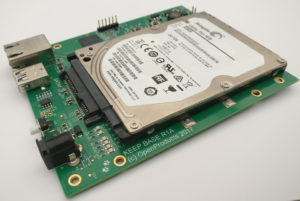 Bottom two are of the PCBA, and as you can see, there are two 2.5″ SATA disks, one on top and one on the bottom of the board.
For the connector part there is a GB Ethernet port and a USB3 port.
On the bottom there is also the CPU module, we now have a ARM A9 dual core running at 1.6GHz, and this combo does give a lot better performance, so compared with OPI it is a step up and a definite "must have". 😉
The system is still running from an internal flash memory, so the disk is there only for user data.
Despite the possibility to put two disks into KEEP, we have been able to keep KEEP small, it only measures 135x130x30mm!
As we posted earlier, the main updates to the software is:
Updated distribution to be based on Ubuntu 16.04 LTS or Debian Strech
Updated web applications such as:

Upgrading to Owncloud 9 / Nextcloud
Upgrading Roundcube to 1.2

New certificate options

Default we will move to Let's Encrypt. This means that you will now get a green location bar and no questions and warnings about using a potentially dangerous certificate in the browser
Added option to supply a custom certificate to be used by the web server
So when can you get it? As I mentioned we do what we can, but we also have to put food on the table. So I can't promise you anything, but I hope that we can get some units out to you guys before summer.
Worth noting is that the same software will be available for OPI, so you will not miss out on functionality, but of course KEEP will be faster and have more storage. So everybody obviously need to have one….
/PA & Tor