After some delay we are proud to finally announce the first major software update for OPI. Being the first update of OPI this is mainly a bugfix release fixing bugs discovered since the initial release.
Detailed information on the release can be found in the forum announcement OPI software 1.1 Released
Apart from pure bugfixes and OS upgrades there are also two much needed/wanted features, shell access and static network configuration. Other notable changes is an upgrade of the Owncloud instance.
Shell access
The biggest new feature of the OPI 1.1 release is the ability to access the internals of OPI via SSH.
This give the end user full control over their OPI. (It should of course be noted that OpenProducts can't officially support any  modifications or other changes made this way. But we are very interested to hear about what cool mods you have made 🙂 )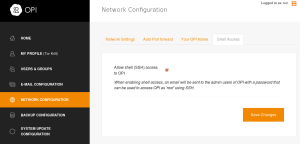 Shell access is enabled under  Network configuration and Shell Access When enabled a generated password is emailed to all users in the admin group.
SSH access is provided by the dropbear ssh server. A minimalistic ssh server but fully usable to do maintenance or install other software.

Network configuration
One key feature that where left out in the 1.0 release due to time constraints was the ability to configure network settings. This have now been added and it is now possible to set static or dynamic IPv4 configuration.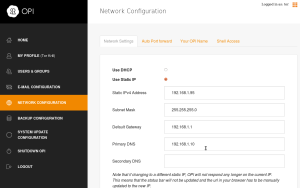 Network settings is configured under the Network configuration menu and the Network Settings tab.
It should be noted that changing IP number when not on the local network is not recommended since there is a big risk that you won't reach OPI anymore due to port forwards in your router might not being updated to reflect the change.